Murphy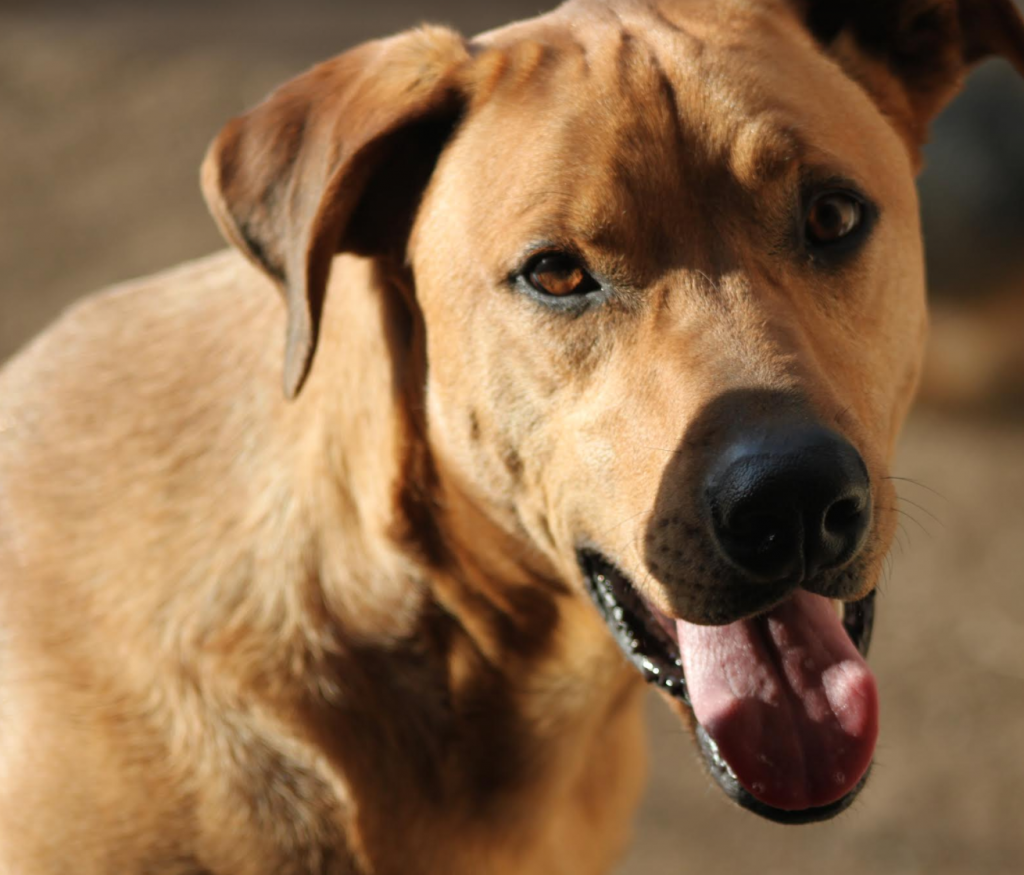 Murphy's Breeds:
I would like to share Murphy's story with you. In 2012 my husband and I went to our Humane Society in December looking for a puppy for our Grown Daughter. There was a litter of puppies that were found in a box abandoned in the park. Well we were told all the siblings were adopted except for one, they told us people looked at him but nobody was interested. Well I am a huge animal lover so when I saw this skinny shaking scared puppy my husband knew that he would be coming home with us. Murphy was supposed to be my Daughters but from day one he attached himself to me. Well as Murphy became a teenager we noticed he had anxiety, he didn't seem to want to be away from us and when we would put him in a kennel while we went out for a short time he would howl almost like a hyena and when we would come home his cage was saturated in slobber. One night we decided to go out for dinner and leave him out in the house we thought that would be easier on him. We only went to dinner and when we arrived home he tore apart our entire sectional couch. His separation anxiety became much worse and it seemed like nothing we tried helped. We rescued another dog 2 years later and even though they are attached at the hip the other 3 dogs weren't enough he needed people around. He started eating through walls, he chewed through the laundry room door.
After trying everything else with no relief I finally talked to my vet and we put Murphy on Doggy Prozac. It seemed liked it helped a little but I didn't like the way he looked, he almost seemed sad. Murphy was only on Prozac for a short time when he suddenly had a seizure, it scared the heck out of me, I thought he was going to die. The vet said just watch him maybe it was a one time thing, then it happened again. I told my vet we need to take him off Prozac he never had a seizure until he started taking that medicine. After his 3rd seizure less than a month apart and they were Grand Mal Seizures every time the vet started him on Phenobarbital and that wasn't helping, he continued to have seizures with no relief. As a loving doggy Momma I felt so helpless and felt like I was failing him. Fast forward an the seizures continued he never went 30 days without a severe Grand Mal and they seemed to be getting more intense. On New years Eve 2017 my husband and I thought he was going to have a heart attack and die, he had two massive ones within and hour from one another. They added KBRO Vet to his regimen and still no relief. I take him to a specialist about 4 months ago and nothing really knew except for talking tome about stopping one medicine and starting another to see what works. My vet started selling Hemp Oil and I did not know the difference between Hemp and Cannabis at the time. So at $100 a bottle and his Phenobarbital 6 pills a day and 6 KBRO Vet and now the hemp still no change. I have researched so much about dogs seizures anxiety all of it. Then I talked to one of the vet techs and telling her how frustrated I was wit the Hemp Oil as I was about to purchase a 2nd bottle and she said you know that Hemp doesn't have the medicinal purposes your looking for……..I was disappointed because nobody told me that, you'd think it would be something your vet would know but it is also new to them so they don't have much info to share. My vet said that Murphy and I were like the test patients and he couldn't wait to hear about what happens and what would work. Needless to say I came home that day and researched Cannabis and full spectrum hemp oil for dogs and found Canna-Pet.
I immediately ordered the hemp oil (you really need a larger size my boy is 100 pounds it goes fast) So I had my vet take him off KBRO vet and he put him on Zonisimide and kept the Phenobarbital the same. So now he took 6 Pheno a day 4 Zonisimide and the hemp oil. I had read all the reviews about how it was a miracle for so many dogs and cats with cancer, anxiety, seizures, everything so I was so hopeful. Then he had another seizure so I was feeling sad but realized I needed to give it some time. He had another seizure and I thought "damn it this is not our miracle, I felt so helpless" I reached out to your customer service asking questions about dosing and found that the hemp oil has a 4-6 hour life where the Capsules have a 12 hour life and that your products are so "benign" as it was out to me that the worse thing that would happen if I gave to much is he would fell tired and take a nap. This time Murphy with just the oil Murphy went 33 days without a seizure and to get past 30 days was huge. My vet thought it was baby steps in the right direction but he had 3 seizures back to back in a 24 hour period. That is when I reached out to your company, so I immediately bought the capsules the max and the oil. Murphy's last seizure was the 3 back to back on May 27, 2017. Since then I have added the capsules, oils and biscuits from Canna-Pet everyday and I am so happy to report that today Murphy has gone an incredible 54 days without a seizure! I know without a doubt giving him the Canna-Pet capsules with the Canna-Pet oil in between is what helped the seizures to subside hopefully forever but at least for now. It has also helped his anxiety, he doesn't chew trough doors and walls anymore and he is back to his happy goofy loveble self. Murphy is young he isn't even 5 years old yet but my heart is so happy to see my boy be seizure Free and I know this is all thanks to the Canna-Pet products in combination with one another, this is truly a miracle for him. I thought a few times I would loose my boy but now I see the puppy back in his step. I am sorry for the long story but I thought it was important to kind of include the big main parts of his whole story! Thank you so much to Canna-Pet I believe these products really are a miracle for our Murphy. Words can't express how grateful I am to have my boy back, I love him so much!!