Canna-Pet® Products
Shop Our Hemp CBD Products
Canna-Pet® MaxCBD Capsules & Liquid
MaxCBD products are safe to administer to dogs or cats of any size.
MaxCBD products have:
much higher levels of hemp CBD
much higher levels of two dozen terpenes 
improved absorption and bioavailability
MaxCBD products are for those who are seeking severe relief with our products
Purchase Canna-Pet® MaxCBD
Canna-Biscuits for Dogs – Organic Hemp CBD treats
Canna-Biscuits™ start as organic biscuits made from quality ingredients by select premium bakeries located in the USA, to which Canna-Pet® adds our Advanced Formula of activated hemp CBD and terpenes. Available in a variety of dog-friendly flavors, Canna-Biscuits can be given as a treat to any pet at any time.
Purchase Canna-Biscuits for Dogs – hemp treats
Canna-Pet® invented cannabinoid (CBD)  nutrition for pets.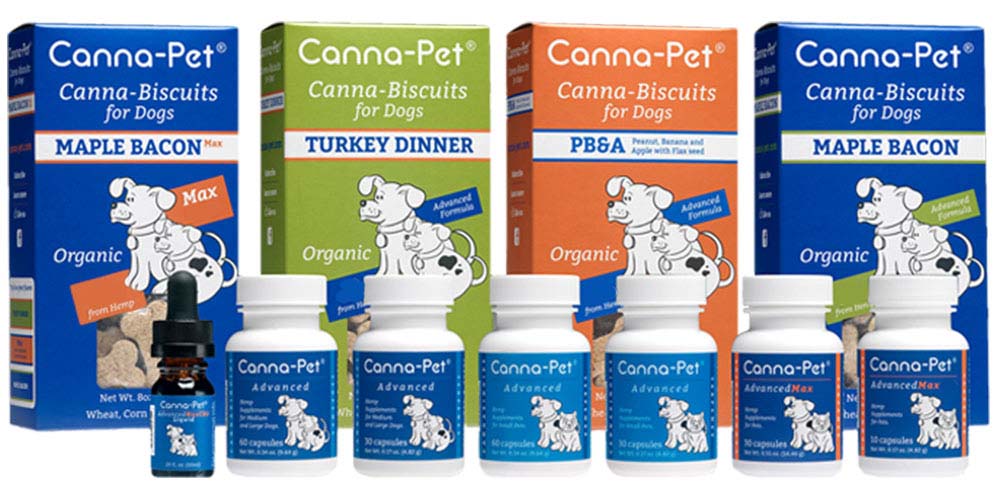 Canna-Pet® products contain over two dozen cannabinoids, terpenes and flavonoids, including CBD, ß-Caryophyllene, CBC, CBG, limonene, α-pinene, and linalool, HPLC tested to ensure quality and consistency.
Rather than focusing on CBD from hemp alone, our products deliver the widest possible array of phytochemicals – formulated to exclusively produce the Canna-Pet® Entourage Effect.
Canna-Pet® products are lab refined, analyzed and tested, cGMP produced in the USA, veterinarian recommended, pure & safe.
Canna-Pet® is the only hemp cannabinoid nutrition company in the world that:
Absorption & Bioavailability
Canna-Pet® Advanced products are formulated for exclusively high bioavailability. By providing for direct absorption in the mouth, they offer 10-15X the bioavailability of traditionally digested hemp CBD products.
Our formulations (as well as the capsules we use) are non-GMO and vegan, free of animal products, preservatives, SLS, gelatin, wheat, sugar, and dairy.
All products are developed and manufactured exclusively for Canna-Pet® in our USA-based laboratories and cGMP production facilities.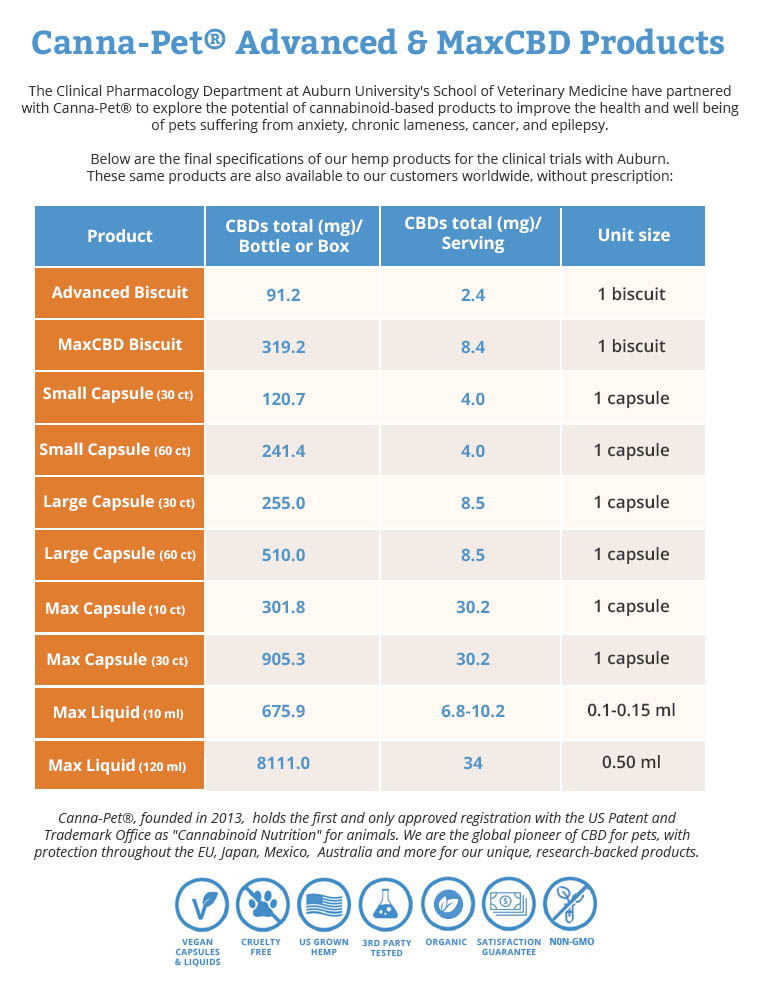 Product Testing Information
Hemp organically grown in USA
Supercritical and Subcritical CO2 Extraction

All Testing Conducted by Independent Laboratories
CBD Extract tested for:
Potency (Cannabinoid Content)
Pesticides
Residual Solvents
Heavy Metals
Terpenes
Finished Products tested for:
Potency (Cannabinoid Content)
Pesticides
Residual Solvents
Heavy Metals
Terpenes