Hemp CBD Products for Pets
Canna-Pet® Started It All
In 2013 Canna-Pet® began educating veterinarians, pet product manufacturers, and retailers by distributing samples and proprietary information to showcase and explain the amazing potential of CBD products for pets. This information was disseminated to communities that had no experience with the ECS system or knowledge of whole plant hemp CBD extracts aside from the concept of "marijuana."
Suffice to say, we blew their minds!  We provided the first and only hemp CBD products that were safe, legal, and produced specifically for animals – which people could now use without fear of toxicity or using a "controlled substance" because they came from industrial hemp rather than marijuana.
The formulas used in our actual commercial products– even Canna-Pet® Classic products – are proprietary, because we have invested heavily in their research, development and refinement.
Canna-Pet® has been known to veterinary organizations and accepted by major pet insurers since 2013.
Independent and collaborative research on Canna-Pet® hemp products involve associations going back several years, and reports and studies will start to be appear in peer-reviewed journals in 2016.
In the years to come more Canna-Pet® studies will be published, allowing us to share more details of our unique formulations and amazing results.
What Actually Matters When it Comes to CBD for Pets
Just looking at milligrams of CBD or hemp is NOT going to bring you results.
The efficacy of hemp CBD products is a function of several factors in combination:
Of course Canna-Pet® starts out with more CBDs than any other pet product, but what is truly unique is our phytochemical diversity (Entourage Effect) and bioavailability are MUCH HIGHER than any other product.
The extraction techniques developed and employed by Canna-Pet® are elaborated here and are proprietary.
Our exclusive CBD absorption technologies employed in our Advanced and Max products are explained here, and are evident when using our products.
Pioneering the Future Development of Cannabinoid Nutrition for Pets
Since we first revealed CBD science for pets to the world, we have spent several years and millions of dollars working with universities, laboratories, and the finest experts among the medical, pharmacological, and veterinary professions, to refine and produce superior cannabinoid nutrition products for pets.
Canna-Pet® grows, refines, and processes more industrial hemp into CBD products for pets than all other companies in the world combined – for several years now  – and that gives us the scale to develop and blend the highest quality CBD rich hemp oil extracts into products for dogs and cats, at the lowest price to consumers (per month or per milligram).
Canna-Pet® Cannabinoid Nutrition guarantee: results or your money back.
Yes, each new generation of our products has improved overall concentration and "more milligrams of CBD," this is true, but each also brings new heights in both efficacy of extraction and ultimate product bioavailability – which are vital to the best results and health for your pet.
Our Canna-Pet® Advanced products represent the forefront of cannabinoid nutrition for pets, and remain years ahead of the competition – just as our groundbreaking Classic Products were in 2013.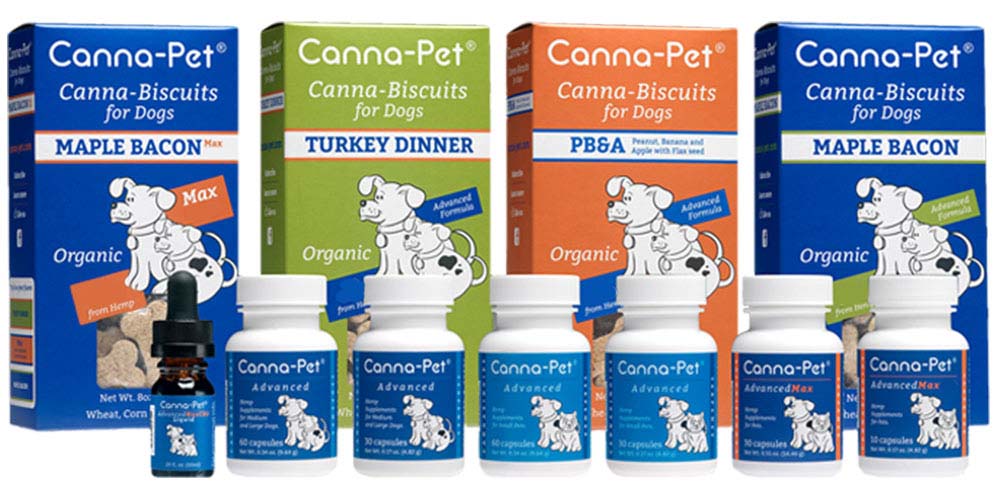 Industrial hemp is legal, and when formulated properly into Canna-Pet® products is both safe and guaranteed to satisfy your pet – but remember the positive results you are hearing about on the news, or reading about in studies are for Canna-Pet® hemp CBD products ONLY and not any other purported "hemp for pets," "companion treats," or "hemp Oil for dogs."
Canna-Pet® customers have made us the best-selling hemp brand for pets in the world for four years running, we remain the only company to offer a money-back satisfaction guarantee.
Look for the ® Registered Trademark – Canna-Pet® is Unique!
We are the only pet product manufacturer to achieve formal registration with the United States Patent and Trademark Office (USPTO) for our hemp products.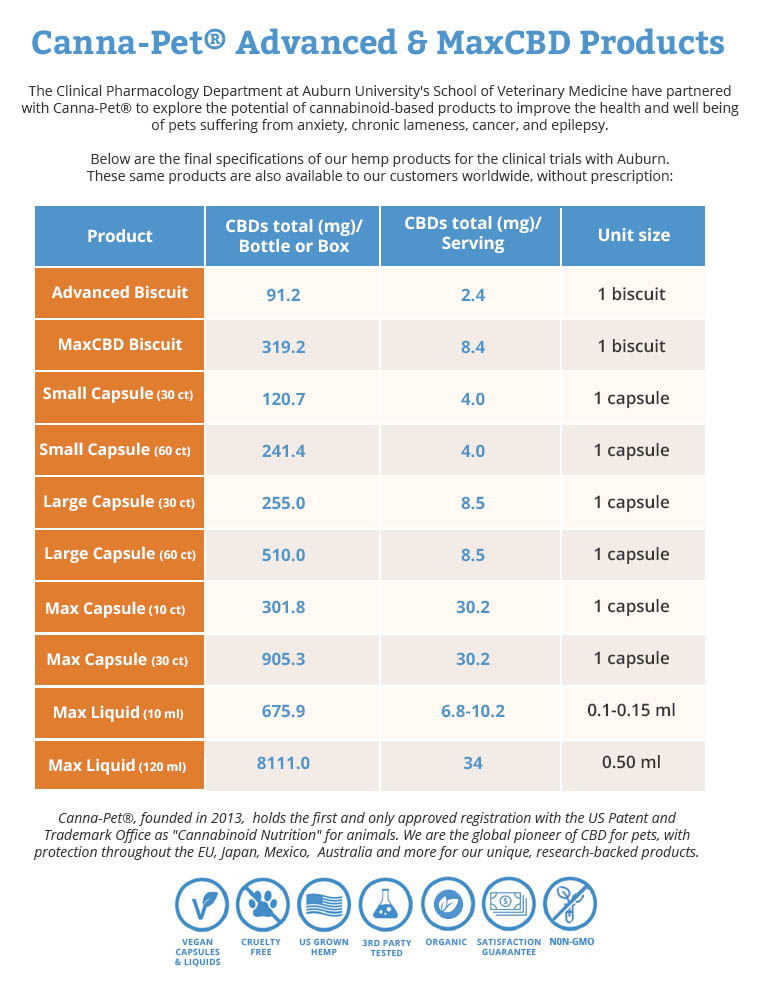 Absent specifics on Entourage Effect and product bioavailability, this question is meaningless.
Likewise, how many mg of "CBD" are in a capsule, biscuit, or drop of a liquid oil is immaterial, because that does not speak to cannabinoid concentration or diversity at all.
Canna-Pet® Advanced and MaxCBD products, on a mg for mg basis, are hundreds of times more effective than other hemp products at delivering CBDs to your pet's ECS system. This is a combination of higher CBD concentrations in our oils, our exclusive use of and access to custom whole-plant, full-spectrum CO2 total extracts to enhance the Canna-Pet® Entourage Effect, our proprietary extraction and activation of phytochemicals to provide our unique ratios of terpenes, and our proprietary bioavailability enhancement that allows for 10-15X the uptake of CBDs by your pet.
One tiny capsule of Canna-Pet® represents pounds of raw field hemp – reduced to a few concentrated milligrams of Canna-Pet® Advanced. We start with acres of crops, which are reduced to just kilograms of product in a multi-stage process which involves:
processing & reduction of tons of harvested biomass from organic farms
several stages of refinement, purification and formulation in USA laboratories
proprietary extraction and activation (without compromising the abundant additional CBDs and terpenes in the material)
proprietary formulation with multiple oils (from multiple crops or multiple farms, as required) to form the CBD and terpene profiles dictated by our testing
Canna-Pet® offers a 100% satisfaction guarantee so you can try all of our products with confidence.
Canna-Pet® Organic CBD-rich Hemp is NOT the same as Medical Marijuana
And that is part of why our Canna-Pet® CBD Products provide safety and results that are nothing like other "CBD dog treats", "CBD for pets", or "Hemp Oil for pets."
Since 2013 over two dozen companies have popped up copying our name and products, but none can match our guaranteed results or our low price to the consumer, our exclusive cannabinoid diversity, or our revolutionary delivery direct to your pets ECS. It has long been established that our products start with the most active CBDs, but what truly makes them unique are the significant Entourage Effect and the high bioavailability only Canna-Pet® products obtain.
Some are holistic vets in it for the money joining the "green rush," some are THC entrepreneurs looking to bake treats for dogs , while others simply white label ineffective CBD products designed for people and sell them for pets with a paw print on the label.
Unfortunately, what we have discovered is that many of these newcomers are using medical marijuana and "medicinal hemp" as substitutes for true industrial hemp because of their limited understanding of CBD science and cannabis genetics – the two plants are NOT the same for your pet, and definitely are not regarded the same way by law enforcement or medical practitioners.
PLEASE listen to Veterinarians, the American Veterinary Medical Association, and the DEA on this topic:
The Latest on Hemp for Pets, Veterinary Practice News, September 2015.
NARDA ROBINSON, DO, DVM
Because marijuana falls under the Schedule I classification, it is illegal for veterinarians to prescribe. Drug Enforcement Administration officials are quick to remind practitioners that their DEA license is based on federal, not state, laws.1

The Veterinary Medical Examining Board of Oregon states plainly on its website that "Marijuana is not approved for veterinary use" and that a veterinarian may not write a prescription for "pet marijuana."2

The AVMA news site states that it is illegal for veterinarians to recommend medical marijuana.

In contrast, a legislator from Nevada has introduced a bill proposing "pet medical marijuana cards" for veterinary conditions that might be helped by marijuana.3 

However, veterinarians cannot determine which medical problems marijuana might help without research, and Schedule I restrictions on marijuana research impose high barriers to further study.
Personal communication with a DEA representative at the AVMA Convention in Boston.  July 2015.
Veterinary Medical Examining Board.  Oregon.gov.  Accessed at http://www.oregon.gov/ovmeb/Pages/index.aspx on 07-27-15.
Glionna JM.  Medical marijuana for dogs and cats?  Nevada lawmaker says yes.  Los Angeles Times.  March 18, 2015.  Accessed at http://www.latimes.com/nation/la-na-pet-pot-20150317-story.html on 07-27-15.
Canna-Pet® First to Innovate & Still Pioneering
Canna-Pet® products are distinct from the ground up:
The reason our products are guaranteed to be safe is that we make them with organic, non-GMO organic hemp.  This means that we have THC levels strictly controlled – no matter how much we concentrate the cannabinoid and other CBD levels, the THC is significantly below what you would find in a product that started with marijuana.
This is part of the reason why Canna-Pet® products are recognized by major medical associations and pet insurers, and recommended by veterinarians around the world, while marijuana-based products are not.
Canna-Pet® organic hemp is guaranteed safe for your pet and legal for you to purchase for your pet without prescription, unlike "medicinal cannabis" or medical marijuana products.
From 2013 to the present, Canna-Pet® has produced three successive generations of products, including our MaxCBD and Advanced Formula. Our research associations go back several years with numerous veterinary universities, our customers cover the globe, and our hemp cultivation and processing resources span two continents.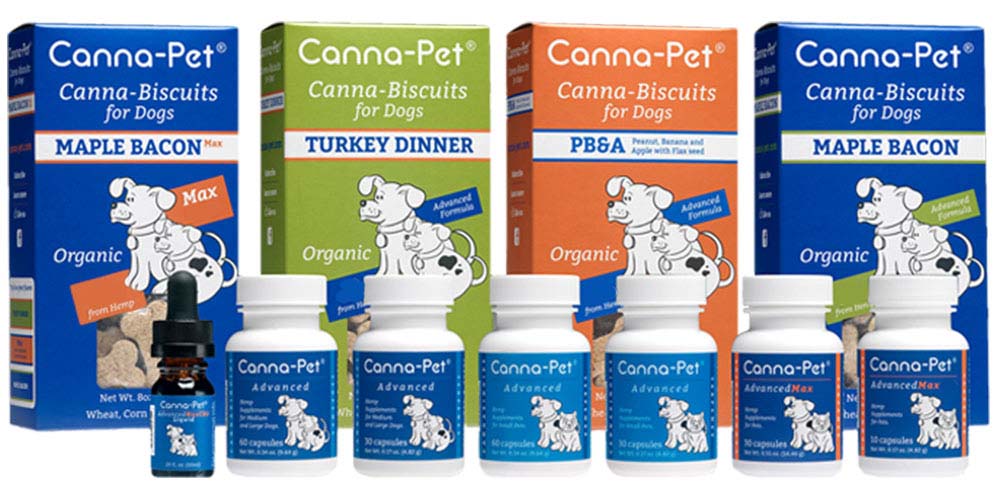 We process more industrial hemp products for pets than all other companies in the world combined.
Yes, our products start out with more milligrams of CBDs – but, on top of that, our products offer 10-15X the bioavailability, and our products feature more biodiversity for the strongest Entourage Effect in the pet industry.
These benefits are unique to Canna-Pet®.
There is no other product in the world that works like Canna-Pet®.
CBD for cats,dogs, horses – or any other pet – there is a Canna-Pet® product for you.
Milligrams of CBD is not the same thing as Canna-Pet® Cannabinoid Nutrition.
Try Canna-Pet® risk-free and see what really matters – how your pet responds.
Canna-Pet® is Unique!
Canna-Pet® customers have made us the best-selling CBD brand for pets in the world for four years running.
Canna-Pet® is the only cannabinoid nutrition company in the world that:
offers veterinarian recommend products covered by major pet insurers;
guarantees our organic hemp products are safe for your pet;
uses exclusively organic, toxin-free hemp, grown in the USA
provides precisely formulated ratios of numerous CBDs;
uses a gentle, proprietary refinement process in our laboratories;
delivers a cGMP product with unique abundance and variety of phytochemicals;
delivers 10-15X the bioavailability of other CBD products;
provides a money back satisfaction guarantee.
We don't sell CBD oil by the milligram – Canna-Pet® products provide Cannabinoid Nutrition Adapted for Pets.
Canna-Pet is the pioneer and world leader in providing hemp CBD to animals for 7 years running.